Welcome to Ted Wagner's Waltons page!
---
Welcome to my Waltons page. Before I begin my narrative of my experiences with the Waltons TV show, let me provide a link to the Walton's home page. Click on the following link to go to the only "official" Walton's home page I have found on the internet: The Waltons.
This page isn't full of pictures or links, just memories of growing up with the Waltons. There are, however, a short list of links to other Waltons web pages on the internet.
I must admit that I do not recall the first time I watched an episode of The Waltons. However, I do recall becoming very familiar with the faces, smiles, laughter, tears, and anxieties of a family that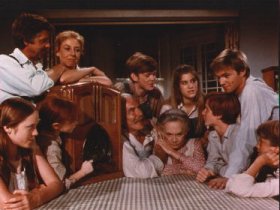 could very well have been my own. Perhaps as a child I never saw the significance; now, as an adult, I do. I, like all the other Walton children, looked up to the character John-Boy. I slowly became interested in the written word and the feelings that can be forever recorded with a pencil.
In high school, I began to write poems and essays that seemed to reflect some styles reminiscent of John-Boy's narrative in the show. To this day, I enjoy reading a good book and taking time to write a few words. I will never forget the ageless voice of Earl Hamner as he read the narrative of John-Boy's character during each episode.
Perhaps some people will think I am a fantasizing fool for fondly regarding the Walton family as my second family. But, I do not. If, I am so lucky, that someday my own wife declares me an "old fool." I shall smile and think fondly of Will Geer, my third grandfather who meant as much to me as my "real life" grandfathers. I will never forget being confused when Grandma Walton came home after her stroke. My mother somehow found the words to explain what had happened to her. However, I never quite understood what family meant and what grandmothers mean to young boys until my own grandmother passed away in 1977. My mother's parents were so much like Ester and Zeb. It warms my heart to watch Grandma and Grandpa Walton tease each other just as my grandparents had. Watching each episode reminds me of my grandparents.
There are several shows of the 1970's which always seem to bring a tear to a few eyes. The Waltons is one of the most memorable. Perhaps it is Olivia when she tries to be brave as she leaves for the sanitorium shortly after finding out about her tuberculoses. Or, perhaps it is when Mary Ellen was so brave herself when everyone heard the news of Pearl Harbor; no one knew the fate of her husband Curtis. Or, perhaps it is when Earl Hamner reads the narrative during Jason's presentation of his final music project in college, "Appalacian Portrait."
The Walton family home is a place I could easily walk into and feel at home. I know it almost better than the house I left in 1978 after nearly 10 years. My goal is to build a replica of that house, in miniature so that I will always have a memory of my "second home."
It is amazing what TV has done for us since it first emerged. There are many TV shows that have been very good and few have been long running programs. But, in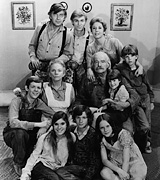 my eyes there will never be one as important as The Waltons. It was a significant contribution to my life and I know it was for many others. I am disappointed that no other TV show has emerged with the same committment to family values in recent years. We have had few TV shows of this caliber since the final Waltons episode. Although we may never fully know the social impact of TV shows on American society, I know that The Waltons had a significant impact on my family directly and its contribution can not be under-estimated.
My congratulations to Earl Hamner and the cast of The Waltons on the longevity of the show. The show began in 1972 and can still be viewed on some TV and cable TV stations around the country.
Congratulations again, and a very warm thank you to the cast and all the people who made the series possible.


Walton's Easter Eggs!
While watching the Walton's TV show, you can often find little "easter eggs". These can be bloopers, "hidden" items in a scene, etc. I will look for easter eggs; then "hint" what show and scene the easter egg is. I won't reveal it. If you find an easter egg and would like for it to appear on this page, please email me. I'll provide the egg with due credit to you. Please note: These easter eggs are not intended to find flaws or errors in the episodes. They are, however, meant to make you look more carefully at how the series was put together and how it was influenced by the 1970's. This is strictly for fun.
Easter Eggs
The Foundling: In the show "The Foundling", you'll notice two peculiar things. The first thing is that something is missing. In the scene where Holly and the girls are playing with a ball and Elizabeth is on the porch there are several shots. During one of the shots of this scene, something is missing. What is it? For the second easter egg, look carefully at the final scene of the episode where the family is gathered with Holly and her parents in the Waltons living room. Olivia is sitting on the couch. What is Olivia wearing? Hint: Many women didn't wear these until it became popular in the 1970's. (Actually, I don't even think women wore these during the depression.)

The Hero: In the show "The Hero" there is something "hidden" at the end of the show. The show centers John-Boy organizing the community to remember those who returned and didn't return from World War I. During a scene at the end of the show, John-Boy gives a quick speach. Before the speach, he is walking through the graves. Find the easter egg on one of the headstones.

The Scholar: Now, I first had some reservations about this easter egg. But, it is something that is a historical fact. I'd like to think that the writers and the director purposely did this out of respect and out of their disproval of history in general. If that's not enough of a hint, I don't know what is. During this episode, Verdie is learning to read and write so she can go to her daughter's graduation. Near the end of the show, John Boy takes Verdie to Ike Godsey's store to see her off on the bus. What's wrong with this scene for that time period in Virginia? (submitted by Scott and Karen Vestal).

The Children's Carol: I've never noticed this one before. I wish I taped this episode. I may be wrong, but if I am correct, this one is a BIG easter egg (blooper)! In the first 10 minutes of this episode, this one rears its head. The community attends Church for the first Sunday in December. We catch the scene right at the end of the sermon. The choir strikes up with a song. Immediately after, we see Olivia, Ben, and Elizabeth at Ike Godsey's store. What's wrong with the transition of these two scenes?

Donald Neslon points out that in an episode (The Move?) that they refer to "going down" to Washington. Washington, DC should be north of Walton's mountain. And, as Brenda points out, this is a rural expression. Actually, my family uses this term a lot to. I live in Indianapolis, Indiana and I often refer to our travels to see family as "going down to Fort Wayne" or "going down to Plymouth". I'm not sure where this expression originated from, but it might be a good research area for those interested in folklore. Also, Donald Nelson point out something I never knew, or perhaps I forgot. When Olivia reads to Mary Ellen, she mentions that Florence Nightingale was born in England. Not so. She was born in Florence, Italy of English parents. And, she was named after the town she was born in. (Thank you for the interesting tid-bits Donald!)
Finders of the Easter Eggs

Scott and Karen Vestal are the first people to find an easter egg! They found the easter egg in The Hero.
If you know of any easter eggs, please send me an email trwagner1@yahoo.com . Please list the show and a clue about the scene where the easter egg is located. I will provide your easter egg on this web page and give your name as the source.
Waltons Internet Links
Ike Godsy's Gift Shop - Some day I will visit the gift shop and museum. For now, I will have to settle for calling them on the phone and ordering.
The Waltons on the Family Channel
Brenda's Tribute to the Waltons Brenda has a wonderful web page dedicated to the Waltons. Her page has many photos, including those she's taken of her visits to Schuyler, VA. Her recent visit is of the Zenith Tombstone radio used on the set of the Waltons TV show. She's a big fan! A very nice web page, one not to miss!
The Nelson County, Virginia Home page. Nelson County Virginia is where Earl Hamner grew up and is also where the Walton Museum is located.
The Waltons Mailing List "The mailing list is sent in digest form, once or twice each week. It's a really friendly group with people of all ages involved so come and join us. We discuss all sorts of Waltons matters and it's a great way to keep up to date with all the latest gossip about this family."
The Walton Family Kitchen - IN MINIATURE! Now THIS is what I want to do, but on a bigger scale!
The Will Geer Botanicum - This is the Botanicum dedicated and named after Will Geer in California. Did ya'll know Will was a hoosier?
Let me know what you think about my page. Send mail by clicking here.
---