The Squirrel Tail Mess
---
Welcome to the home page of the "Squirrel Tail Mess." We are a group of Civil War reenactors living in central Indiana. Our main focus is the authentic portrayal of the Civil War soldiers who were experienced and proven marksmen.

From time-to-time, we form an "alliance" of Sharpshooters and form Birge's Western Sharpshooters. The images you see on this page were taken at the November, 1996 Tactical in Central City, Kentucky. We participated as the 35th Ohio Volunteer Infantry. Our unit was the largest single (registered) unit participating at the tactical. Note that the group image was taken on Sunday just before leaving...half our ranks were "wounded, killed, or in a hospital wagon" and were not present when this image was stricken.

The soldiers in this image are from Indiana, Illinois, Kentucky, Michigan, and Ohio. All of us are members of independent reenacting groups who "consolodated" to form our sharpshooting unit for the fall tactical in 1996.

We did survive the "flood of Shiloh" this year -- wet, muddy and, in good spirits! We served with the Frontier Brigade. Although the battle was cancelled Saturday afternoon, accolades go out to the organizers for a fabulous skirmish Saturday morning. It was one of the best battles we have participated in as sharpshooters/skirmishers. We'd like to publicly thank Col. Mark Dolive, Commanding Officer of the Frontier Brigade for his assistance and allowing us the privilege of serving with his unit at Shiloh.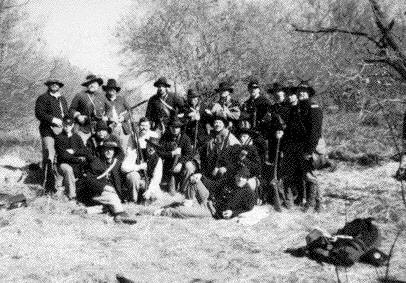 Here are the pards from Indiana and Ohio who "look the part".

As the "Squirrel Tail Mess" we generically portray the 66th Illinois, Company G. The original Civil War unit was first organized as the 14th Missouri Volunteer Infantry -- also known as "Birge's Western Sharpshooters". The unit was issued rifles through the St. Louis gunsmith Mr. Horace Dimick. A good portion of the rifles were "Dimicks" made by Horace Dimick. The remaining rifles supplied by Mr. Dimick were sport (or target) rifles and hunting rifles...classically known during that period as "German hunting rifles". The other rifles he acquired were purchased through other gunsmiths throughout the country. The rifles were crafted by various gunsmiths of the time. A few years later, some members of the unit purchased Henry Repeating rifles.

The 14th Missouri made their distinction at Fort Donelson by keeping a 12 gun battery silent for three straight days. They also served with distinction at Shiloh.

I am interested in obtaining any information on sharpshooters no matter what the unit. If you have any information that you would like to share, (on rifles, soldier experiences, photo copies of items/documents, after action reports, unit histories, etc....), please contact me. I am always looking for more research material to broaden my knowledge of the solder who served as an expert marksmen. I am interested in all aspects of soldiers' experiences.

Also, if you have any photographs of original target rifles, I would be interested in getting copies. Please contact me on this if you have anything.

WWW Links Links on Shooting, History, and other miscellany
What is a sharpshooter? What is a sharpshooter as opposed to a sniper.

If you have any comments or link suggestions, please click on my e-mail address to send e-mail.
We're friends of Hal. Are you a friend of Hal?